The Frog Boys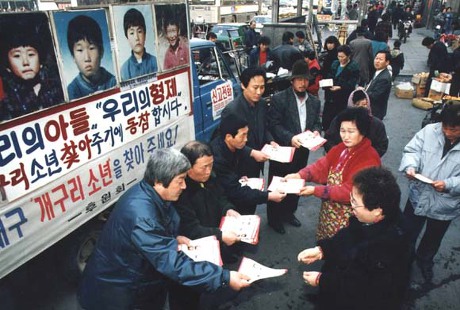 Five 9-13 year old boys went missing in Korea 30 years ago, and their dead bodies were discovered just shy of 20 years ago. The five boys, Woo Cheol-won, Jo Ho-yeon, Kim Young-gyu, Park Chan-in, and Kim Jong-gyu went missing on March 16th of 1991, after going to a place close to their village in the western outskirts of Daegu to look for salamander eggs. 
After the boys never returned home, they were reported missing. Roh Tae-woo, the South Korean president at the time, ordered a manhunt by police and military to find them, and the searches were shown live on TV. The boys' parents were also heavily involved, and some of the boys' parents even quit their jobs to look for their sons. Mount Waryong was searched over 500 times. All five of the boys went to the same elementary school and were all from Dalseo District of Daegu. 
On September 26th of 2002, a man who had gone looking for acorns found the boys' bodies in an area in Mount Warong that had already been searched. He reported the remains of the bodies by way of an anonymous phone call. The police said that they thought the boys had died from hypothermia, however their parents denied that conclusion and demanded an actual full investigation. The parents found it so odd that they had simply died from hypothermia after it was discovered that their clothes were tied in knots and the discovery of their bodies in an area close to the village that the boys knew very well, from where they should've been able to make it home safely. The forensic experts found that the skulls of three of the boys showed evidence of blunt-force trauma, possibly from metal tools, according to Wikipedia. The police said that they had been possibly killed by someone that had gone into a fit of rage. 
In 2006, the case expired. However in 2015, the national assembly voted to remove the statute of limitations on first degree murder. On the 30th anniversary of their disappearance the city installed a memorial near the area called the "Frog Boy Memorial and Children's Safety Prayer Monument." The police from the Daegu Metropolitan Area announced a new task force had been formed to review the case from the very beginning and continue to catch up on any new information they receive on the case.