Dispatch, Making Music to Make You "Dance Like We Were All Alright"
Imagine discovering a song that upon one listen convinces you that you want to live the simple life somewhere far away from your current home and that you would absolutely thrive if you actually did so. Imagine a song that inspires you to "change [your] name to a name the birds could pronounce." This is what was going on inside my head the first time I heard the song Only the Wild Ones, and that song was my first introduction to the genre-spanning band Dispatch.
Dispatch itself originated in New England (there is some dispute as to whether their origin story begins in Vermont or Massachusetts) in 1996, and it was in that same year that the band recorded their first studio album, Silent Steeples. Two of the founding members, Chadwick Urmston Stokes and Pete Heimbold, are native New Englanders, and the third, Brad Corrigan, is adamant that his hailing from the Denver, CO area has been a major influence on their sound. Following the creation of Napster, an online platform designed to facilitate musical exchanges between individuals, in 1999, it didn't take long for Dispatch to take off on the USA's west coast. The band members' "long hair and longer strides" fit in perfectly with that particular indie scene and their music was appreciated for its uniqueness as much as it was for its resemblance to folk music from years prior. 
Silent Steeples concludes with the song Elias, a tribute to a Zimbabwean gentleman who had befriended Stokes and whose two sons later inspired Dispatch to organize the Elias Fund, through which the band members and their listeners could contribute to the provision of education and health care for Zimbabweans facing an HIV/AIDS epidemic. The Elias Fund was at its most active around 2005 and does not appear to be active in the present day. Elias is incredibly thought-provoking but nevertheless upbeat and fun, and much like Only the Wild Ones, listeners will be motivated to make changes and be reassured they'd be okay with a wildly different lifestyle by the time the final drumbeats fade out. 
Throughout the last 25 years Stokes, Heimbold, and Corrigan have grown apart and developed individual musical careers, and doing so seems to have only improved their ability to work together when Dispatch reunites every couple of years to produce an album and/or go on tour. Devoted fans didn't abandon them in the 12 year interim between their albums Who Are We Living For? and Circles Around the Sun, nor did the bandmates abandon one another when faced with the realities of their competitive natures and experiences with mental illness. Immediately following the band's initial break up in 2004 the trio were not on the best terms, but they were able to set the hard feelings aside in order to perform a farewell concert in Boston at no charge to the multinational crowd that attended. It didn't take long for Dispatch to prove that absence makes the heart grow fonder, though, and their 2011 reunion was just the first in a series of reunions between which would be just enough time apart to make the guys really want to perform together again. (Dispatch also reunited unofficially in 2007 and 2009 to raise more money for Zimbabwean citizens. Then-prime minister of Zimbabwe, Morgan Tsvangirai, even attended their 2009 performance in Washington). Their most recent studio album was recorded in 2018, though it is unclear how soon after Covid-19 is under control the band intends to hit the road again. 
Dispatch hasn't shied away from writing about politics or social justice here in their home country of America, and like many artists, they produced more politically explicit music after the 2017 inauguration, but in many cases, their older songs seem more reflective of the current moment. The lyrics to Open Up, from the 2000 album Who Are We Living For, are to me frighteningly reminiscent of the behavior of law enforcement officers in America that are finally coming to light now. The line "We believe he is you and that is your flaw" in particular, although it was written by a white man, is to me (granted, also white) a perfect encapsulation of law enforcement's view toward people of color. The General, Dispatch's first real "hit" song, is also timeless, and military experience isn't required for a listener to relate to it. The character at the center of the song "grew a beard as soon as he could to cover the scars on his face," which could easily be interpreted to be a metaphor for hiding past trauma or feeling compelled to be strong for other people, neither or which is healthy but both of which are default responses for the human brain. The chorus consists of the general declaring to his troops, "'You are young men you must be living, go now you are forgiven,'" and I just can't imagine I'm the only Forest Grove High School student who needs to hear those words on a regular basis, who needs to be reminded that youth should be enjoyed and that everyone screws up sometimes.
Dispatch music is all kinds of emotional and chock-full of good advice, but by far my favorite lyric of theirs and the one I want to leave my readers with is this one: "Let's drink from the cup and share some luck and go ahead laugh 'cause it don't cost much/No it don't, it don't cost much." 
About the Writer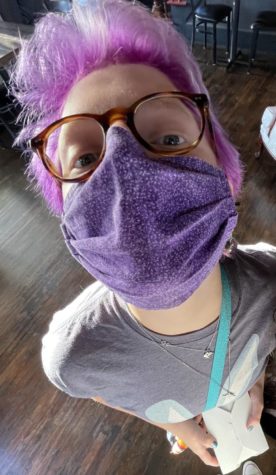 Lucie Carriker, Editor
Lucie Carriker, a senior at FGHS, is an aspiring doctor of some kind who still can't decide whether she's most interested in performing gender confirmation...