Rap Culture in Basketball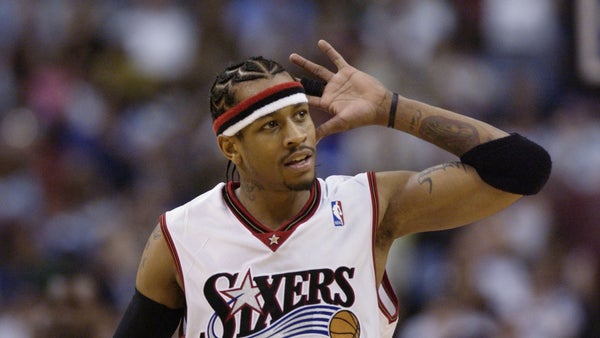 Rap music was created in New York in the early 1970s, and the NBA was founded in 1946, although the two didn't really converge until the 1990s. Two pioneers of this merging come to mind to anyone who follows basketball. Michael Jordan and Allen Iverson.
Michael Jordan was the biggest sports personality in the world from the late 80s and all through the 90s. Jordan came to fame with his unique, high flying jumping ability and great fundamental skills. Jordan had been sponsored by brands such as Nike, Gatorade, and McDonald's. His impact through these brands can still be felt today. The basketball player had a major influence on the fashion industry, because of his sneakers and clothes, which eventually led to rappers wearing his brand Jordan. Surprisingly, Michael Jordan doesn't like rap music at all despite being one of the most named dropped people of all time. He is so popular that Drake made an entire song named after him, titled "Jumpman" which featured Future. He was the first basketball player to mix basketball with urban culture, but the person who followed him took this concept to a different level.
Allen Iverson was an American basketball player, who played 14 seasons in the NBA from 1996 to 2010. Nicknamed "The Answer" and "AI", he is considered a great basketball player, but more so as the most influential player of all time, alongside Jordan. Iverson was more known for his antics off of the basketball court. He was seen as a cultural icon before he knew himself as one. At the time, most of the basketball players would dress in a suit and tie before each game, and A. I was not one of those players, and would often wear baggy clothes with a bandana, durag, or a hat, which sparked different opinions. Besides being the shortest player on the court every night. Iverson was easy to spot because of his tattoos that stretched from his neck down to his legs, which was rarely seen in the late 90s and early 2000s. The only notable player who had tattoos before Iverson was Dennis Rodman, who played alongside Michael Jordan. In the league today you see numerous players with multiple tattoos. Some with most of their body covered, as of 2014, around 55% of players have tattoos. The number has definitely increased in the last six years, and all of this is due to the influence of Allen Iverson. Though Iverson was a basketball player he truly fit the rapper aesthetic, from the way he dressed to the way he spoke. He found himself a welcoming home in hip-hop culture. .
The influence of rap culture in basketball can be seen in various ways, the biggest one is the all-star weekend. This is a weekend in February that the NBA takes off to host activities for the elite players of the NBA to compete in, like the 3-point contest or the all-star game. It's guaranteed to see actors and other celebrities at the all-star weekend. Although rappers have been taking the weekend as their own since Michael Jordan and Allen Iverson have laced up their shoes. It is common to see almost every rapper you can think of in the stands every single year. The game is worldwide, part of American culture is found in basketball, and all the biggest influences in our lives, like music, have found a spot with basketball.