Anna and Abby's Yard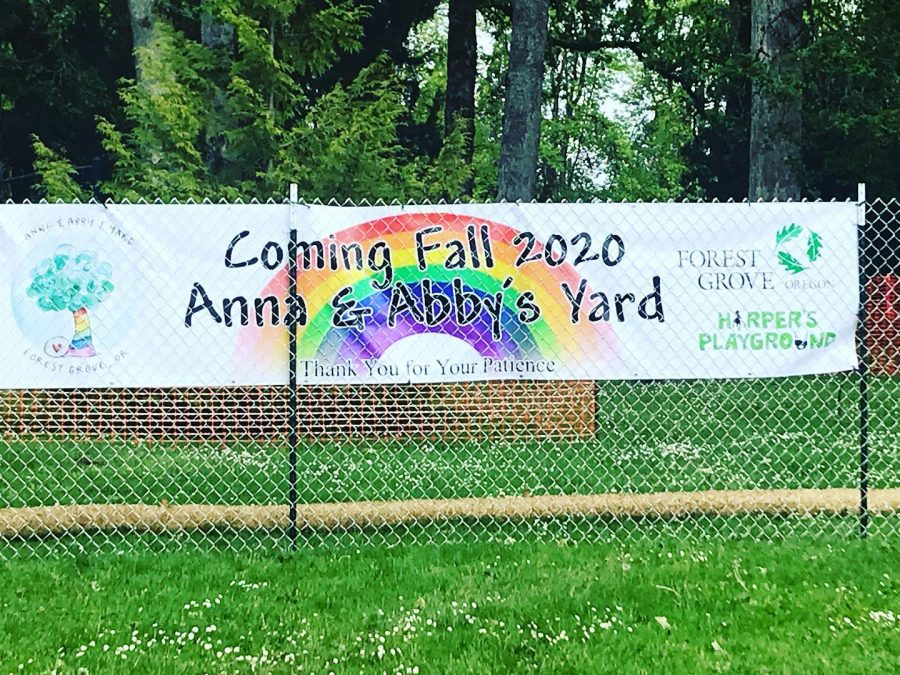 By now, most Forest Grove residents have heard the story of Anna and Abby, found clever spots for love rocks, or have participated in the annual Love Rocks Run. Soon, there will be another addition to the love and kindness they spread, Anna and Abby's Yard. If everything goes according to plan, the playground currently under construction at Rogers Park will be completed on the First of November, and the fairy-themed wonderland will be ready to cultivate joy throughout the community. "As you know, my daughters, Anna & Abby, went to Heaven 7 years ago this month, Oct. 20th is their 7th Heaven Day," says their mother, Susan Dieter-Robinson. "Shortly after they went to heaven my husband and I decided to do something in their honor with the memorial fund that was created for us by our community." After years of dreaming, the playground has finally become reality. Anna and Abby's Yard began construction at Rogers Park on April 24th of this year and will be a mystical playground complete with Fairy Houses, Picnic Benches, and Love Rocks Galore. "We loved going to parks and playing more than anything so building a playground in their honor seemed perfect." Partnering with Harper's Playground, The City of Forest Grove, and the design team at MIG, plans were finalized, ground broken, and construction began.
Right now, if you drive past Rogers Park, you may see some eye-catching features. Concrete has been set, natural wooden swings installed, a Dragon Log on the grass, and a huge tree trunk balancing on a podium. With real wood and other natural features, Anna and Abby's Yard will be designed with a heavy focus on nature and the local climate, similar to other playgrounds designed by Harper's Playground and MIG. Partnering with Harper's Playground, Anna and Abby's Yard spreads a message of inclusivity and love. This message is clear, with a massive love rock front and center. "… the Forest Grove community loved on us, held us and supported us (and continue to do so) through our darkest days after the girls went to Heaven and being able to build something for our community really means a lot to us~ it's our way of saying thank you." 
In addition to the playground, some of the existing features of Rogers Park will be refinished and given new life. For example, the basketball and tennis courts will be resurfaced, repairing the previously enjoyed structures to their past splendor. Plus, no trees already in Rogers Park will be taken down as Anna and Abby's yard is constructed. 
As each day passes, we get closer to unveiling the project the community has looked forward to for years. This fall, the message of love will be further spread throughout the town, state, and world. "Over the past 7 years the park has gone through a location change and lots of design changes but we really feel that what is being built right now is exactly what our girls would want… a magical nature based play space for everyone." Soon, years of collaboration and community will become Anna and Abby's Yard. 
About the Writer
Tabitha Fitzgerald, Writer
Tabitha Fitzgerald is a Sophomore at Forest Grove High School. She enjoys rainy weather, working in theater, and eating good food.