True Pride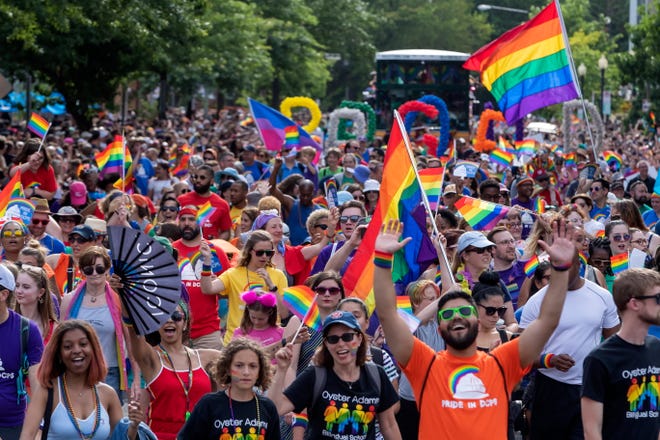 Gay pride or LGBT pride, the promotion of the self-affirmation, dignity, equality, and increased visibility of the LGBTQ+ community (LGBTQ+ resource article) as opposed to shame and social stigma, is the predominant outlook that bolsters most LGBT rights movements. Pride has lent its name to LGBT-themed organizations, institutes, foundations, book titles, periodicals, a cable TV station, and the Pride Library.
    Ranging from solemn to carnivalesque, pride events are typically held during LGBT Pride Month or another period that commemorates a turning point in a country's LGBT history. For example, Moscow Pride is in May for the anniversary of Russia's 1993 decriminalization of homosexuality. Some pride events can include LGBT pride parades and marches, rallies, commemorations, community days, dance parties, and festivals.
     As of 2017, plans were advancing by the State of New York to host in 2019 the largest international celebration of LGBT pride in history, WorldPride NYC 2019, to commemorate the 50th anniversary of the Stonewall Riots. In New York City, the WorldPride NYC 2019 events produced by Heritage of Pride were enhanced through a partnership made with the I LOVE NY program's LGBT division. It included a welcome center during the weeks surrounding the Stonewall 50 – WorldPride NYC 2019 events that were open to all. Additional commemorative arts and cultural and educational programming to mark the 50th anniversary of the rebellion at the Stonewall Inn took place throughout the city and the world. 
     The term "Gay Pride" was crafted by Thom Higgins, a gay rights activist in Minnesota. Brenda Howard, a bisexual activist, is known as the "Mother of Pride" for her work in coordinating the march. She also originated (LGBTQ+ resource article) the idea for a week-long series of events around Pride Day which became the genesis of the annual LGBT Pride celebrations that are now held around the world every June. Additionally, Howard along with bisexual activist Robert A. Martin and gay activist L. Craig Schoonmaker are credited with popularizing the word "Pride" to describe these festivities. Bisexual activist Tom Limoncelli later stated, "The next time someone asks you why LGBT Pride marches exist or why Pride Month is June tell them 'A bisexual woman named Brenda Howard thought it should be.'"
      The 1950s and 1960s in the United States was an extremely repressive legal and social period for people of LGBTQ. During this time American homophile organizations such as the Daughters of Bilitis and the Mattachine Society coordinated some of the earliest demonstrations of the modern LGBT rights movement. These two organizations in particular carried out pickets called "Annual Reminders" to inform and remind Americans that LGBT people did not receive basic civil rights protections. Annual Reminders began in 1965 and took place each July 4 at Independence Hall in Philadelphia.     
      The anti-LGBT discourse of these times equated both male and female homosexuality with mental illness. Inspired by Stokely Carmichael's "Black is Beautiful," gay civil rights pioneer and participant in the Annual Reminders, Frank Kameny, originated the slogan "Gay is Good" in 1968 to counter social stigma and personal feelings of guilt and shame.     
     Early on the morning of Saturday, June 28, 1969, lesbian, gay, bisexual, and transgender persons rioted following a police raid on the Stonewall Inn, a gay bar at 43 Christopher Street in Greenwich Village, Manhattan, New York City. This riot and further protests and rioting over the following nights were the watershed moment in the modern LGBT rights movement and the impetus for organizing LGBT pride marches on a much larger public scale.
      On November 2, 1969, Craig Rodwell, his partner Fred Sargeant, Ellen Broidy, and Linda Rhodes proposed the first pride march to be held in New York City by way of a resolution at the Eastern Regional Conference of Homophile Organization's meeting in Philadelphia.
"That the Annual Reminder, in order to be more relevant, reach a greater number of people, and encompass the ideas and ideals of the larger struggle in which we are engaged—that of our fundamental human rights—be moved both in time and location.
"We propose that a demonstration be held annually on the last Saturday in June in New York City to commemorate the 1969 spontaneous demonstrations on Christopher Street and this demonstration be called CHRISTOPHER STREET LIBERATION DAY. No dress or age regulations shall be made for this demonstration. (LGBTQ+ Quote)
"We also propose that we contact Homophile organizations throughout the country and suggest that they hold parallel demonstrations on that day. We propose a nationwide show of support."
All attendees to the ERCHO meeting in Philadelphia voted for the march except for the Mattachine Society of New York, which abstained. 
      As of today we now have LGBTQ discrimination laws that prevent the community from being targeted.