Living With an Unwelcome Roommate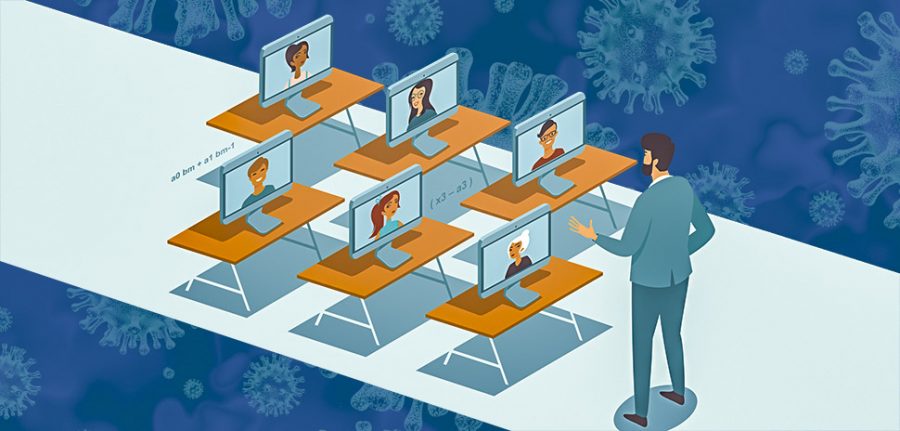 It's been a rough year, starting with fires in Australia, the loss of a major basketball star, a pandemic that shook the world, to the fires in our own state of Oregon. With these drastic changes, we've all had to make adjustments. The biggest adjustment is making space in our lives to accommodate our new roommate, Covid-19. 
As a community, routines have had to change. Business, teachers, and students alike are suffering through these same pains and changes. It's easy to forget as students that we aren't the only ones frustrated.  I had the opportunity to get a pseudo interview with one of our very own FGHS math teachers, Mrs. Samuel. 
 "It is difficult to read nonverbal cues from students when all I can see is a little video tile." Believe it or not our teachers do prefer to see our smiling or zombie faces to seeing black little boxes with our names. Mrs. Samuel can attest that it's easier to interact with us kids when we aren't asleep off camera. It's also harder for her to decipher whether we are struggling and confused when we aren't there in class, or there with our cameras on. She's had to become more direct with students to find out how they are doing in regards to pacing and content. 
Despite having to cut some activities from the course to accommodate the online platform, Samuel has made the best of the situation and is continuing "business as usual". Though business as usual as taken on a new meaning. Canvas and Zoom have allowed for our comprehensive learning to be more accessible and useful for students. Those sites in general have allowed us as a district to be more prepared for our online lessons, which Samuel agrees has helped us be more productive and more prepared overall. 
It's an unfortunate situation that we are in right now, and I recognize that it's hard to find the positive in all the negative aspects. One of those small wins is without being in person there's less of a chance for off-topic conversations and distractions around the learning. Although that might be more of a loss for students, it is really helpful for teachers to be able to stay on point and on task to finish the lesson. 
I can't remember the countless times I would walk into a classroom and talk to my classmates or teachers about any little thing. Samuel reports that is one of the many things she misses about the classroom environment, "I miss the casual interactions with students and my colleagues.  No one can just 'drop by' to talk." It's not just casual conversations we are losing in this new environment, we are losing the ability to easily interact with students and teachers alike. Asking for help over email is one thing, but being able to be in person and actually explain what you are struggling with is always gonna be a lot easier than any other platform. However, we have to learn and develop with the lemons we've been dealt.
I really believe that if you want to be able to handle a situation better you need to find ways for you to be able to cope and take in the situation for what it is, not what your brain is making it seem. Mrs. Samuel herself has found a way to take this situation and find a way to handle it making it a bit less overwhelming. She says, "Take one thing at a time – try not to get overwhelmed with the enormity of the situation," and I couldn't have said it better myself. 
  Remember, we are all struggling and suffering in this situation, for some it might be worse than others, but never forget you aren't alone. I know we've all heard this a lot, but remember to give grace to your peers and teachers alike, no one is perfect and right now it is even harder than before to pretend to be.