Traveling to Thailand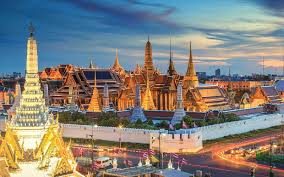 Thailand is an absolutely beautiful country located in Asia.  This country's border neighbors Cambodia, Laos, Myanmar, and the Gulf of Thailand.  The capital of Thailand is Bangkok and, fun fact, one-tenth of the population of the whole country lives there.  Thailand is very well known for its temples, in fact, it has around 40,000 Buddhist temples located in Thailand.  So, where should you go when you visit this amazing country? 
The first place you have to visit are the beaches there.  One great beach to check out is Maenam Beach.  Maenam Beach is a very calm beach located in Koh Samui and isn't much of a tourist destination.  According to www.kohsamuisunset.com, "It tends to be quiet, with far fewer beach vendors and more room to find your spot and spread out."  So spending a day or two out here would definitely be a great, relaxing break from all of the hustle in life.  Maenam Beach is considered to be one of the most peaceful beaches in the area and is known for its extreme beauty.  So, if you're ever around be sure to check out this amazing beach for a nice, relaxing time.
Another place that is a must-see is Khao Sok National Park.  This National Park is located in southern Thailand.  According to www.khaosok.com, "It is covered by the oldest evergreen rainforest in the world, huge limestone mountains shooting straight up in the air, deep valleys, breathtaking lakes, exciting caves, wild animals and much more."  So, if you're a nature lover, this is a place that you absolutely have to go.  Some of the activities that you can do there are hiking, canoeing, and much more.  Also, there is no need to worry about whether or not you'll know where to go when you get there, because there are tours that will take you around and teach you more about the beautiful place.
Lastly, you should definitely check out Wat Phra Kaew.  Wat Phra Kaew is a temple located in Bangkok and it finished being built in 1784.  On www.tripsavvy.com it says the temple "is home to the Emerald Buddha, widely considered the most important Buddha statue in Thailand."  Also according to www.tripsavvy.com, "-Emerald Buddha is considered the most sacred object in Thai culture."  So, definitely make sure to check out this magical temple and the wonderful statue there.
In conclusion, Thailand is a magical country and a must-see when you're traveling around the world.  So, if you are ever nearby, be sure to check out Maenam Beach for a wonderful and relaxing break from the stress of the world.  As well as, Khao Sok National Park, so you get to explore its amazing natural beauty.  Finally, check out the Wat Phra Kaew temple for a cultural experience and a chance to see the Emerald Buddha, the most sacred object in Thai culture.  Overall, visiting Thailand will be a guaranteed amazing time, and make sure to check out all of these amazing places to learn more about the culture and nature.