Gentefied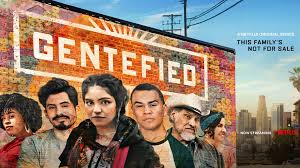 On February 21st, 2020, Netflix premiered an American comedy-drama based show on its platform that left many users delighted. Influenced by Latin-American culture, Gentefied quickly grew to be one of the top ten streaming shows for an entire week. To add on, season one was able to obtain a score of 90% on Rotten Tomatoes and a score of 87% from the audience. Gentefied isn't the only culturally diverse film in Netflix though, ranging from shows such as On My Block, Jane the Virgin, Dear White People, and Ali Wong: Hard Knock Wife, which all display equal inclusivity to communities and society.
     Genetefied currently holds one season and rumors have surfaced about a second season, but nothing has been officially confirmed about renewing the show. The aim of this show is to demonstrate Latin culture, as well as brown love and queer love. By having the main characters demonstrate those factors, it forms a strong bond between the show and the viewers. Portraying those factors creates a form of empowerment towards those who are treated as lesser people or feel less represented in society.
     The story follows three cousins, Chris, Erik, and Ana Morales, with different personalities, who have to put their differences aside in order to help out their grandpa Casimiro save his Mexican restaurant as the land they live on increases in price. They face obstacles that thousands of families in society face today, such as lack of money, relationship issues, and social status. Showing how others deal with these issues leads to finding comfort in how you are not alone in these situations.
    Joaquin Cosio, who plays Casimiro, owner of Mama Fina's restaurant in the show, is a Mexican actor who was born in Tepic, Nayarit. He is also known for his role as Don Neto in Narcos: Mexico. Cosio's characters' strong personality is displayed throughout the whole season and adds a lovely display of diversity empowerment in the show. In the last episode, Casimiro is arrested by ICE immigration due to being an illegal immigrant.That whole situation creates a strong position in the episode because the viewers have seen how much of a hard worker and great grandfather he is. It adds a point of view that many people don't see because they don't have to deal with complicated situations like other families do. 
       Carlos Santos, whose character is named Chris Morales, was born in Puerto Rico and his character demonstrates the life of a young adult having a dream they want to complete but he is trapped under monetary issues and family problems. Many young adults today have dreams they want to complete but a lack of money doesn't let them pursue their career so they give up. Santos' character displays hope to underprivileged families that everything will be able to work out in the end.  Although Karrie Martin (who plays Ana Morales) and Joseph Julian Soria (who plays Erik Morales.) were not born in any Latin country, their strong Hispanic heritage is displayed in this show. For example, Ana Morales being a queer Mexican character breaks many stereotypes made by society. 
    Overall, Gentefied is a show that should be on your watching list. Having so much positive diversity in a series is necessary to let people know they are all included and nobody should feel alone in difficult situations. Understanding this concept can change people's views and create an even stronger bond within a community and might even make the world feel a bit more inclusive. This can slowly be achieved by having more shows to display diversity in the film industry.
About the Writer
Joselyn Gonzalez, Writer
Joselyn Gonzalez attends Forest Grove high school as a junior. Ahe adores her dog, is literally obsessed with watching Tik Tok's, and likes red apples...