Traveling to Germany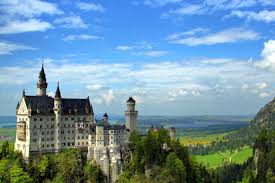 Germany is a magical country, full of amazing places to visit and wonderful sites to see.  The scenery is amazing and many tourists love going to Germany. Especially, for its interesting history involving old World War II concentration camps that can provide a historical experience.  Germany also has amazing structures, such as beautiful castles and churches. Some of the interesting places that you can go see in Germany are Auschwitz, Neuschwanstein Castle, and the Asam Church.
Dachau is a concentration camp that is located in Upper Bavaria, Germany.  Well, going to the concentration camp would be a very sad experience, it would also be an educational experience.  Going to this camp you would be able to learn more about World War II and the cruelty that was shown during this horrible war.  According to History.com, "Dachau, the first Nazi concentration camp, opened in 1933. . ."  At first, the camp was used to house political prisoners, but later on, it became a death camp where thousands of Jews died.  Not only did they bring Jews here, but they also brought people that Hitler considered "unfit" for the new Germany that he was trying to create.  On History.com it says that these people included, ". . . artists, intellectuals, the physically and mentally handicapped and homosexuals."  Going to this concentration camp would be very sad, but very educational.  Overall, going to Dachau would provide important historical information about World War II.  
You've heard of the Sleeping Beauty Castle located in Disneyland and the Cinderella Castle located in the Magical Kingdom, but have you ever heard of the castle that inspired these castles and many others.  This castle is called The Neuschwanstein Castle, and it is located in Schwangau, Germany.  This castle is a magical place not only for its unique beauty, but for its interesting history.  This castle started to get built way back in September of 1869 and was almost complete by 1886. At the castle you will get to learn more about the people who built the castle and the interesting history behind it, involving how this castle came open to the public so millions of people could come and visit.  Not only will the history be interesting to those who come and visit, everyone who comes will be able to admire the amazing beauty of the castle and its enchanting beauty.
The Asam Church would be a beautiful place to visit.  This church started to get built in 1733 and was finished in 1746.  If you are traveling on a budget this would be an amazing place to visit because going inside is free.  However, you will only get to go into the lobby area because this church is still used to worship and not for tours.  However, in the lobby you will still be able to see some of the amazing architecture. Even though you can't get to see all of the beauty in the inside of this church, you'll still get to see the wonderful structure outside.  The church is an absolutely beautiful and historical place to visit, so if you're ever nearby make sure to check it out. 
In conclusion, Germany is not only known for its breathtaking beauty, but for its interesting history.  Visiting here would be very educational when visiting its concentration camps, especially if you decide to visit Dachau.  If you ever stop by the fairytale castle called Neuschwanstein Castle you will not only get an educational experience but get to see the castle's amazing beauty.  Lastly, if you visit Germany you will get to see the Asam Church and learn about its history and see its beauty. Clearly, if you visit Germany you should make sure to check out these three amazing places.     
About the Writer
Anna Hansen, Writer
Anna Hansen is a 9th grader at Forest Grove High School, who enjoys running Cross Country and Track.  Some of her favorite classes are Journalism, Basic...