Where to Go in Switzerland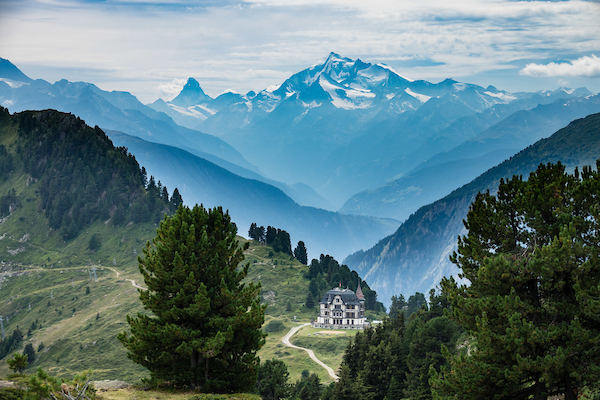 Today we are going to visit the magical country of Switzerland.  In this country, there are not only amazing towns to visit but also many natural beauties here.  The two places we are going to go over today are the Swiss Alps and Rhine Falls. 
The Swiss Alps are a wonderful mountain range located in Switzerland.  It is great for hiking and skiing. This mountain range is not only known for its amazing physical activity options but also known for its natural beauty.  According to TheCultureTrip, "From mountain tops that's height will crane your neck to so many beautiful, isolated lakes that you'll never want to leave."  The last reason that you should visit the Swiss Alps is because it has the highest point in Europe on it.  On TheCultureTrip it says, "The Jungfraujoch, where you'll find the Great Aletsch Glacier, is rightly known as the Top of Europe."  So, when you visit the Alps you will be able to get a great Instagram photo on the highest point in Europe.  Overall, the Swiss Alps are a must-see when visiting the wonderful country of Switzerland.
The next place you should visit is Rhine Falls.  Rhine Falls is a beautiful waterfall located in Switzerland.  One of the many things you can do here is go on an educational boat ride.  According to RheinFalls, " The audio guide no. 5 pink line let you find out lots of fascinating information about the Rhine Falls, their history and the surrounding area – all available in 18 different languages."  So, if you don't know any of the languages spoken in Switzerland, don't worry because they probably have an audio guide for you. Another thing you can do is have a wonderful experience at their adventure park.  On RheinFalls it says, "Balance from tree to tree on fourteen different courses, or plunge in free fall from a 13-meter platform to land gently back on the ground. Secured by a power fan, our high-speed descent device!"  Another thing you can do here only happens once a year.  Every 31st of July at Rhine Falls you get to see beautiful fireworks displayed.  The last thing that you should do here is see the Historama. According to RheinFalls, it says, "The exhibition in the north wing of the castle, that dates back to the year 1843, on two floors, focuses on the historical importance of the place and the influence of the Rhine Falls on nature, society, and on important visitors."  Clearly, Rhine Falls is a place you have to visit when traveling in Switzerland. 
In conclusion, Switzerland is a beautiful country to visit and if you ever visit there, you must check out the Swiss Alps and Rhine Falls.  If you visit these two places you are guaranteed to have an amazing time in this wonderful country. With the Swiss Alps' scenery, physical activity, and the highest point in the world, and Rhine Falls with its boat tours, adventure parks, fireworks, and history, you will 100% have an amazing time.  Overall, if you visit these two places in Switzerland, you will have a great time.      
About the Writer
Anna Hansen, Writer
Anna Hansen is a 9th grader at Forest Grove High School, who enjoys running Cross Country and Track.  Some of her favorite classes are Journalism, Basic...