Pastels and Wavy Sheer Fabrics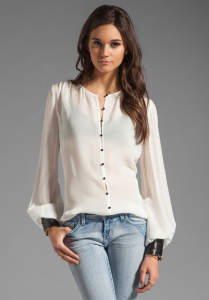 In this series, you'll find out this year's hottest trends, tips, and tricks on how to style your outfits. Remember, you don't need to follow these "fashion rules", they are just little tidbits to add to your everyday outfits. Every style is unique and there is no right or wrong. Just be yourself and create your own from what's trendy.
This year, pastel colors and mixed prints have become fairly trendy. Pastel colors, especially yellow and pink, refresh your outfit. There are also a lot of positive features in wearing pastel colors. First of all, it makes you look tan and who doesn't want tha . Secondly, it's easy to match with other pieces, such as black or white jeans. Pastels, especially yellow, are also associated with happiness and optimism. If you still don't want to be associated with happiness, continue to try pastels. They're cute and pretty colors.
For example, pastel pink represents love. Well, of course, you can wear pink and hate everyone and love but hey maybe someone else loves pink on you!
Express yourself with these colors. I know it's tempting to wear all black every day, but try something new at least once a week.
Another popular style is wearing light and sheer fabrics. They look really pretty and are so comfortable when you have to wear it all day. At the same time it looks that you have put effort into your outfit and fashion sense.  
You can also make every outfit cute with romantic beach waves and a simple splash of color. Or just feel lazy and throw on your favorite hoodie and jeans. Let's be real, we all have those kind of days. But try those beach waves with that outfit too. It makes it better than it was originally!
Leave a Comment
About the Contributor
Iida Heikkonen, Writer
Iida is a senior in Forest Grove high school. She is an exchange student from Finland and she is on the cross country team.