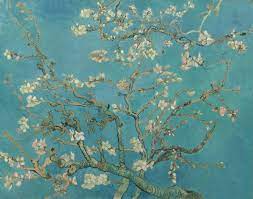 This famous painting is called Almond Blossom, you most likely have heard of the famous artist Vincent Van Gogh. In France of February 1888-1890 he created this beautiful painting. 
Just before Van Gogh's painted Almond Blossom his brother's wife welcomed a newborn baby into the world. When Van Gogh heard the news of his new nephew he was filled with joy. He expressed this joy by painting, Almond Blossom. 
The Almond Blossom tree he based his paintings on is located in southern France. Van Gogh loved nature. This painting was inspired by Japanese paintings, and it holds the meaning of life.
Almond Blossom is the most charised painting of his family. By just looking at Almond Blossom the painting it reflects the beautiful bright colors used. Some say the oil painting pops by just glancing at it. 
Today you can see the painting in the Vincent Van Goah art museum along with many of his other paintings. These days Almond Blossom can be found everywhere.